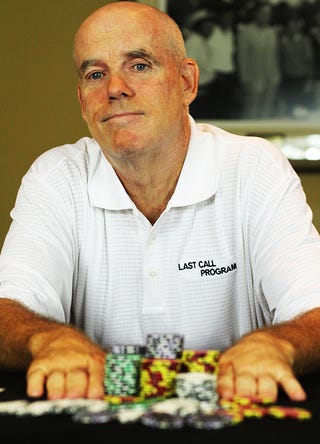 By Drew Nederpelt
The Trailblazer & Gator Wrestler
"I'll tell you a story that will sum up Ken Green," says CBS Golf analyst and one of the top golf teachers in the world, Peter Kostis, after giving Ken Green a lesson on a blistering April day in Boca Raton.
"Kenny played in the 1985 Masters, and in the Par 3 tournament, which they have every year before the tournament begins, Kenny had his son caddy for him, who was very small, and Ken got reprimanded because conduct like that wasn't becoming from anyone participating in the Masters. The next year Kenny and Calc (Mark Calcavechia, a Kostis student and good friend of Green on Tour at the time) both qualify for the Masters and on the 16th hole of the Par 3 tournament, as they're walking off the tee, one of them decides to drop a ball on the edge of the bank and see if he can skip the ball across the water up onto the 16th green. And they both got yelled at for that by the powers that be at Augusta." Kostis stops to let that sink in. Then begins again as a wry smile spreads across his lips.
"These days, two of the biggest, most fun times of practice rounds at Augusta National are the par threes where all the players have their kids caddy for them, and if you don't try and skip the ball across the water in your practice round at 16, you get booed. So those two guys got yelled at in the mid-80s for what is basically an essential part of the atmosphere of the practice rounds at Augusta today."
Whether you consider Ken Green to be a trailblazer or simply unwilling or unable to keep his mouth and his actions in keeping with his surroundings, or a combination of both, is likely a matter of several criteria: How well you know Ken Green, your personal views on authority, and also in what era you were born. The people who know him, like his coach of thirty years Peter Kostis, or talk-show host Maury Povich (another student of Kostis' who hobnobbed with Green and Calcavechia in the late 80s after his wife, news anchor and journalist Connie Chung, bought Povich a birthday present of Kostis golf lessons), or former Major League Baseball great Larry Walker (whom Green golfs and bowls with regularly), say that Green would give you the shirt off his back, and his pants, shoe, and sock to boot (though you might not have much use for one shoe and sock and a one-legged pant).
It's Green's apparent lack of self-awareness or perhaps more accurately, selflessness, that caused him to dive into a pond in 2003 to wrestle an alligator, getting the animal to release his beloved dog Nip (who survived the ordeal). And while his lack of consideration for 'the way things have always been done' (Masters participants keeping to the straight and narrow, humans fearing alligators, pro golfers requiring two legs) has no doubt helped him win more than a half-dozen professional golf tournaments worldwide, in addition to winning a spot on the 1989 Ryder Cup, these days it seems like his reputation as a "straight shooter" as Golf Digest called him for their cover story in 1988, is wreaking havoc on his attempt at an unprecedented sporting comeback.
Typically in an article about a one-legged golfer trying to make a comeback on the PGA Tour, the fact that he's an amputee, and how that came to be, might be shared in the first couple paragraphs. But just like Ken Green, details about self are set aside for other considerations. Regardless, the story cannot be told without including the tragic circumstances of that night in June 2009.
Green and his wife (though she is reported as his girlfriend in much of the media, he and Jeannie, his girlfriend of eleven years, had been married in the Caribbean not long before the accident, says Green), his brother, caddy and best friend Billy, and his constant companion, dog Nip, were returning from a Champions Tour event in Texas when the tire of his motorhome exploded (Green was sleeping in the bedroom while Billy drove), sending the vehicle careening over a small cliff in rural Mississippi. The crash killed all the occupants but Ken. It left him with severe lacerations to his head, fractured his suborbital bone and almost blinded him, tearing ligaments in his left ankle, knocking his jaw sideways and leaving a bloody gash to the bone on his head measuring ten inches. His right leg was shredded below the knee. After several days in the hospital doctors told him he would require countless surgeries to save the leg and that he would be left dragging it around like the dead appendage it would be. "Cut it off," he simply said.
The emotional pain from losing what is literally your entire world in one instant would be unbearable if he couldn't play golf again, thought Green, so the decision to remove his leg was a simple one. "What am I going to do, sit around and watch tapes of my old tournaments, the glory days? That would only lead to one very bad ending. So my choice was to try and get back out and do what I knew how to do, and that was play golf," he recalls.
PAIN INSIDE AND OUT
Six months later, while Green was trying to get some semblance of his life back, his son Hunter died of a drug overdose at college. Green was forced to make a decision, which he says was the most difficult of his life.
"Sitting there in the hospital room I had to make a decision. My life was shattered. I had just lost my wife, my son, my brother (his parents were previously deceased). I felt so alone. Would I be able to start over, or should I just end it and join them?" he says he asked himself. At the end of his time on the PGA Tour he had well-reported bouts with depression and has never been shy about the toll his divorce from his first wife took on him at the time. But his decision to start over was made. He would rise from the literal ashes of that unbearable June night and try to put his life together, one day at a time. And the one thing he knew more than anything, the one thing that had delivered unto him more satisfaction and confidence than anything else, was professional golf.
"He's always been a competitor, that's what endeared him to me back in the day, his competitive spirit. That's still there, that didn't get injured in the accident," said Kostis in 2014. And it was that competitive spirit that Green believed would take his mind from his otherwise debilitating circumstances and give his life meaning once again. He has admitted to seriously considering suicide many times since the accident, but his belief that he can help others in their struggles, regardless of how they are manifest, always wins out. (In the few tournaments that Green has played he always visits local hospitals or along with his significant other Kristin [and the seemingly unending cadre of family friends who travel with him to events], hosts ill children at the home he rents for tournament week). He would rise up and out of bed each day and use his effort at a comeback to gauge how meaningful his life was, and is. Each day would be the start of the rest of his life. Unfortunately, due to forces seemingly conspiring against him, he is losing that battle.
DONE BEFORE HE TEES IT UP
"I would love to see him have a chance," says Kostis. "The fact that sponsors aren't giving him any exemptions into tournaments is absolutely mind-boggling. And the fact that the PGA Tour is not doing much to help him, at least from my perspective, I find that mind-boggling." But both of those observations are bang-on, and unfortunately for Green, and possibly for golf itself (see Can Ken Green Save Golf?), time is running out.
In 2013, Green wrote to the Montreal Open and received a sponsor's exemption (sponsors of pro golf events are given freebie spots which they can dole out to those they want at their tournament) to play in that tournament, and although he didn't need it since he qualified to play through his medical extension (more about that later), he finished tied for 58, ahead of two dozen other Champions Tour players. But outside of the two Senior PGA Championships he has played in the past two years (he qualifies for the PGA Championship by way of his Ryder Cup Team membership), he has not been able to get into any other Champions Tour tournaments save for Iowa the week after the Senior PGA in the spring of 2014, from which he had to withdraw because of the hills. (Green's prosthetic is fixed at the heel [at 90 degrees] which makes it incredibly difficult to deal with walking, let alone hitting, on very hilly terrain).
"Unfortunately the reputation he developed back in the peak of his playing days, people are unwilling to let go of that, and they're unwilling to forgive, and today he's paying the price of that, and it's a shame, because based on what I saw today he can hit the ball better than some guys who are already out there," said Kostis after a 2014 teaching session with a new prosthetic that Green has been working on as part of a joint Department of Defense initiative.
But outside of sponsor's exemptions (which are very simple; if the sponsor wants you there, you're in), the Tour has very strict and steadfast rules governing who is eligible to play in tournaments. When Green was injured he was playing on a two-year exemption because of his PGA Tour wins. He had played 10 months of the 24 months at that point. Because that 24-month exemption allowed him unfettered access to play, he was guaranteed to play as many events as he wanted in that 24-month period. After his exemption status was up (the two years), his earned money would be tallied and if he was in the top 30 or 50 on Tour he would gain access to the following year's tournaments to one degree or another.
But because Green had his accident in month 10 and was incapacitated for the remaining 14 months (and 22 more) of his eligibility, he had to request a medical extension, which is basically a waiver which recognizes there was a legitimate reason for him missing the remainder of his 24-month exemption. In recognizing medical extensions (this type of extension is not automatically granted in order to keep players from simply taking a sabbatical until they feel like playing again) there are three categories; two based on top-30 money lists (one the previous year and one lifetime money) and the third being exemptions based on career wins, which is where Green falls. There are also two types of medical extensions, Major and Minor. Major Medical extensions allow you to qualify at the front of the exempt list while Minor Medical extensions put you at the end of the line when getting into tournaments. As a Minor Medical recipient, Green gets entrée into tournaments only after a select number of qualifying and Major Medical players drop out or don't show up. The result is that Ken is only eligible for a few tournaments a year based on those criteria. There are however, several problems with the way this is organized.
Firstly, if Green had not had his accident, and therefore had not needed to apply for a medical extension, he would have had an additional 14 months of playing any tournament he wanted. After all, he had earned that exemption by being a prodigious winner on the regular PGA Tour. But because he was forced to miss 36 months after his accident, he had to apply for a medical extension, and in his specific category there is only a Minor Medical extension available, and therefore he (and anyone else whom this might happen to) must wait at the back of the line to get into tournaments. The Tour has these medical extensions for a reason; so players don't get penalized for the wrong reasons, i.e. reasons that aren't their fault. Ken Green is being penalized for losing his leg, and that is patently unfair.
FROZEN OUT
In 2011, two years after his accident, Green appealed to the Tour to consider implementing a Major Medical extension for his category. They declined. They were comfortable in their decision however because while they felt badly for Green (so they said to his face) they assured him that he would have no problem getting into tournaments through sponsor's exemptions. To date, since the beginning of his attempt at a comeback, Green has written twenty-five tournament sponsors and directors for an exemption into their tournament. He has been granted access by one.
In late 2014, Green pleaded again with the powers of the PGA Tour to do something about his not being able to get into tournaments. He found a seemingly sympathetic ear in Jimmy Gabrielsen, Vice President of Player Relations and Administration for the Champions Tour, who suggested that in the next meeting of the Players Advisory Council, he would go around the room and see if the players were willing to speak to sponsors and ask that they allow Green into some tournaments. In an anonymous vote, the decision was made: No.
It's not unheard of for professional athletes to veto increasing their competition, but for a small group of millionaires to outright bar a one-legged golfer from competing with them seems asinine. Just the impression that a bunch of privileged rich guys all got together behind closed doors and decided not to help this poor man who had his entire family AND his leg ripped from him, is stomach-turning. But the PGA Tour has ironically never been very self-aware (see "Augusta National" and "Shoal Creek" as it relates to blacks and women, for starters).
Says scratch-golfer and TV legend Maury Povich, "I find the Senior Tour, over the years, I've been told by a lot of quality golfers, has become a closed tour." If the players want it to remain a "closed tour" by, for, and of, the existing members, that's one thing, and not entirely surprising. Surely the sponsors can see the folly in that though, especially when it comes to actively and consistently barring access to someone who, literally more than any other golfer who could possibly tee it up on the Champions, LPGA, or PGA Tours, could provide inspiration to millions around the world. If the sponsors are trying to reach the same 50-plus year-old amateur golfers (who are giving up the game by the millions) by parading the same 50-plus year-old professional golfers around their courses week in and week out, the game will decay faster than Chamber's Bay greens. Ken Green is giving them an opportunity for something different, something unique, something inspirational. The players obviously don't want it, and inexplicably, the sponsors seem not to either. At this point Green could go to the courts to help rectify the injustice, but he doesn't want to, yet. "I'm a team player. If I had wanted to let the courts handle this I would have started that train down the tracks in 2011 when they first said no. But I want to exhaust all other avenues first. I'm trying to be a gentleman about this but I'm not getting any younger," he says.
But when things seem inexplicable you start to look for other reasons things are the way they are. Nefarious reasons. Reasons that no one talks about openly. And in this particular case, the case of Ken Green being shunned from the PGA Tour, a Tour that he contributed mightily to, the reasons are well within sight.
"Whatever Kenny has done in his life, he's done them for the right reasons. He's never been malicious, he's never been vindictive. He's done some things I know he wishes he hadn't, but he did them. He's stood up for freedom of speech and those things that we're supposed to have in America. Unfortunately in the controlled environment of the golf world, we don't really have that freedom, you know?" says Peter Kostis when asked if Ken Green is being treated unfairly by the PGA Tour. And this is coming from someone who is universally regarded as one of the most upstanding and legitimate human beings inside and outside of golf.
With all the defense Green is given you'd think he was Al Czervik to the PGA Tour's Bushwood Country Club, or even Mitch Cumstein, but he's not close to being even Ty Webb. Green simply spoke his mind in his heyday and was roundly reprimanded for it. That should be all there is to it, but that's not the case. His estimation is that he's been fined over 30 times and he's mentally cataloged fines he's received when the exact same action from others received nary a peep. (The one he remembers fondly is when he hit a sprinkler-head in anger and was fined, while Arnold Palmer [Green's biggest idol] doing the same was ignored, and while Ken Green is not The King, the fact is that golf is not a subjective sport- it has rules and those rules, by the very nature of the game, are supposed to be enforced uniformly). He recalls a time in the 90s when he received a call from then, as now, PGA Tour Commissioner Tim Finchem, for wearing bright pants. "He calls me and says the pants that I'm wearing are not professional and that I need to stop," Green recalls. When asked if he is sure it was the Commissioner himself, Green replies, "Oh yeah, it was Finchy alright."
And that's when this story gets interesting.
THE PING THING
In 1989, golf equipment visionary Karsten Solheim had a serious problem. His PING wedges were in a vast majority of every Tour player's bag and his PING EYE 2 clubs were the best-selling club in golf. The problem was that would all soon end if things continued as they were.
There are two organizations that collaborate in the development and enforcement of the rules of golf in the United States and around the world. The Royal and Ancient in Scotland, and the United States Golf Association (USGA) in New Jersey. Together these two organizations set the standards for play both for professional and recreational golf. In 1989, the USGA had determined that the PING EYE 2 clubs had what were known as "square grooves," and that these grooves in fact provided an advantage versus non-square, or V-shaped, grooves. The USGA claimed these grooves were 5/1000s of an inch too wide.
Solheim, an immigrant from Norway and one of the pioneers of golf club design, was panicked. His golden goose was about to get cooked and he was running out of options. The USGA was banning his number one club from professional competition beginning in March of 1990 and for everyone else beginning in 1996. He strongly believed that the USGA's measurement system was ''arbitrary, inconsistent, unreliable and not a recognized standard of measurement'' and so he did what he thought was his only option, he sued the USGA and he sued the PGA Tour (which had agreed with the USGA that the clubs were "bad for the game"). And while the suit against the USGA could be fronted by himself and his company, Karsten Manufacturing Corporation, the suit against the PGA Tour needed the likes of Tour players who were at the time using his clubs. He needed Touring pros involved whom he could count on to support the lawsuit and speak out for the amateurs who used the planet's best-selling golf clubs. After all, if the pros were barred from playing them, the public would soon dismiss them.
At the time, there were three top Tour players on staff (meaning sponsored) with PING, and they were Ken Green, Mark Calcavechia, and Bob Gilder. Calcavechia declined to participate, while Bob Gilder, who was on the downside of his career, agreed to have his name added to the suit. When Green was approached he recalls, "I told him I would do it. I liked Karsten, he was a good man, and what the USGA and the Tour was trying to do was not right. It was arbitrary and Karsten needed some of the Touring pros to stand up and be heard." And so Green's name was the highest profile player on the nine player lawsuit (which included PING) against the PGA Tour.
Calcavechia's decline of participation was, according to Green, because of fear of retribution. While golf competition is a merit-based endeavor, the Tour and the sponsors, who work hand in hand, can affect players receiving sponsor's exemptions as well as how medical exemptions are handled, tee times in many tournaments, and who you are paired with for the first two days of tournaments (in a famous line from Sports Illustrated writer Alan Shipnuck's book Bud, Sweat and Tees, he relates the organizers of the Masters pairing players they didn't like with Scott Hoch, an irascible hot-tempered sour-puss).
In early 1990, the USGA settled the suit with Solheim and unbelievably conceded that "there was no competitive advantage to a user of the club" and that the issue was merely a technical one based on their math, as Solheim had insisted all along. In return, PING agreed to stop manufacturing the U-shaped grooves with the condition that all pre-1990 U-shaped clubs were grandfathered in. The USGA admitted that they settled the lawsuit in essence because they feared a loss in the courts would weaken their already precarious grasp on global golf control. The New York Times reported in January 1990:
"William C. Battle, president of the U.S.G.A., said the compromise was a ''reaffirmation of the U.S.G.A. as the sole rule-making body'' in United States golf. It had been feared by many in golf that a jury verdict against the U.S.G.A. would severely undermine the association's authority as a rule-making organization."
That statement speaks volumes about the mentality of these organizations. Instead of adjudicating their position, a position that they had taken unilaterally and stood by steadfastly (until a lawsuit required them to actually provide facts and details), they just caved in and admitted they were actually full of it and that the clubs didn't actually provide an unfair advantage as they had harrumphed and harangued all along. And not only that, but they claimed their caving was "a reaffirmation of the USGA as the sole rule-making body"! That's like saying the previous year's World Series champs successfully defend their title despite calling in sick for this year's series.
And why did they cave before they actually had to support their claims? The answer is in the President of the USGA's own words; so they didn't have the chance of losing the case, and not just losing for the sake of losing this specific case, but "severely undermining the association's authority as a rule-marking organization." In the real world, the world where Ken Green and others live, the world where you stand by what you believe in because you believe in it, and you believe that your influence on others and their livelihood should be handled with the utmost respect, thoughtfulness and responsibility, you go forth with such a case because you believe it to be the right thing to do. You don't give up simply because if you lose it means you don't get to bully everyone else around until the end of time.
At the end of the day, if you lose a case like this, perhaps you shouldn't have the right to make the rules for everyone else, which of course was expressed by exactly no one at the USGA, the PGA, or in the media. The suggestion that if you do in fact lose this case perhaps means you don't know what you're doing and you shouldn't be solely in charge of the livelihood of professionals and the enjoyment of the masses, was reported by no one.
And what does it say about just how little the USGA cares that this horrendous admission gets out into the open that they have their President go on the record and admit that they really didn't care about losing the case against PING but that they didn't want to risk losing their control of the very people they caved to in this instance? At the end of the day the USGA, and later the PGA Tour (which, it needs to be noted, is different from the PGA of America), would be revealed for what they are: a small group of individuals, gathered under a self-proclaimed banner of authority, with the sole goal of maintaining that authority for no other justification than that's what they want, that's what they've become accustomed to, and that's the way it's always been done. And when it comes time to follow through on an attempt to prohibit people and companies from making an honest living, the sole largest consideration in whether they halt their attack is whether, when it's all over, there's a chance their authority over everyone else will be weakened.
And while five paragraphs might seem like too much piling-on these organizations, it also might be the entire point of this story; self-appointed, century-old institutions (taken together the PGA Tour and the USGA are over 200 years old) with way too much unchecked and unbalanced power and influence might just have outgrown their usefulness. Take for another example the 2015 US Open, administered by the USGA. By all accounts, including typically staid and diplomatic golf legend Gary Player's, it was held at a crusted husk of a golf course. In unprecedented fashion the USGA was involved in the selection, development, construction and maintenance of the site. The venue was verbally eviscerated by those who participated in the nation's Open (and those who didn't) unlike any tournament that has gone before. And the USGA uttered not one word of contrition or mea culpa or even explanation, but was instead steadfast in its defense of the site and the conditions, predominantly by way of a lock-step chorus-line of Fox on-air talent marching forth to denigrate those who might outwardly claim the Emperor has no clothes.
Now, with the firm understanding that whining millionaire golfers should typically be handled as Tom Cruise's Les Grossman character in Tropic Thunder suggests you handle whining actors ("You take their pants down and you spank their ass") it would be nice if, when asked to account for very serious issues, the USGA and its golf-governing brethren didn't behave like 16th Century French Monarchs.
Meanwhile, despite the USGA suit being settled, there was still the case of the suit against the PGA Tour, and PING and the players were winning plenty of pre-trial victories, including an injunction filed by the players and PING against the PGA which prohibited the PGA Tour from enforcing their "V-Rule" edict. From the decision of the 9th Circuit Court of Appeals:
"…concludes the evidence has shown there is a reasonable chance of success on the merits of Plaintiffs' claims. Insofar as the conduct of the PGA TOUR, Inc. at the February 28, 1989 Board meeting, it is clear that the vote did not comply with the By-Laws of the PGA Tour, Inc.
The Court concludes there would be irreparable harm to the individual Plaintiffs as well as the corporate Plaintiff if the injunction is not imposed.
The Court has considered evidence of damage to reputation, the fact that the corporate Plaintiff has already lost some of its market share, and that there is a strong likelihood the consuming public emulates the equipment choice of professional golfers. The Court has also considered conflicting evidence as to the harm which may or may not be suffered by the individual Plaintiffs and concludes that irreparable harm will inure if the injunction is not imposed.
IT IS HEREBY ORDERED that the defendants PGA Tour, Inc., its officers, agents, servants, employees and attorneys and those persons in active concert or participation with them who receive actual notice of the order by personal service or otherwise are preliminarily enjoined, pending the outcome on the merits from prohibiting the use of U-groove irons by enforcing, enacting or implementing the so-called PGA Tour V™-Rule adopted by its TOUR Tournament Policy Board at its meetings on February 28, 1989 and December 5, 1989, or otherwise, and from enacting, adopting or implementing any other regulation, rule or resolution which would have the same effect or nullify the effect of this Preliminary Injunction."
This ground-breaking decision was appealed by the PGA Tour and they lost again- the Plaintiffs were walloping the Evil Empire. And so, on the eve of the trial that would determine who was finally right and who was wrong, the PGA Tour offered to settle the case by agreeing to abide by the settlement reached in the USGA case. The players and PING agreed and the authoritarian collapse was complete.
Green says he felt vindicated by all the pro-plaintiff decisions leading up the settlement, as well as by the admission by the USGA that playing the PING clubs was not an advantage. "We were in the right and we were standing up to a bully. The only reason, in my mind, that the Tour was even in this fight was because Karsten was not of the old-guard, the established golf-industrial-complex. Ask yourself who complained that the clubs, when measured, were five one-thousands of an inch off from an arbitrary measurement to begin with. Ask yourself who had that kind of equipment. Yes, the other club manufacturers. And the fact that the USGA even admitted that the grooves didn't help improve play just goes to show you that the decision to ban the clubs was old-school fear-mongering and turf-protecting at its worst," says Green twenty-five years later.
And while that would seem to be a victory for Ken Green and his merry band of anti-establishment "free-speechers," as Kostis would call him, the fallout would come fast and last for the rest of Ken Green's life. Because while the case against the establishment may have been won, there was one man who represented the establishment as an attorney for the Defense, and who, according to Green, was involved in every single one of the gambits and moves by the PGA Tour during that lawsuit. This man would go on to play a very big role in every single professional golfer's life for the next twenty-one years, up to and including today. And the name of that man is Commissioner of the PGA Tour, Tim Finchem.
THE OFFICE OF THE COMMISSIONER
Ken Green estimates that most of his fines (not including the phone calls and written locker-room warnings about loud pants and having a beer with Arnold Palmer inside the ropes at the Masters) came during his time on Tour right after the settlement of the PING lawsuit and during the first few years of Tim Finchem taking the helm at the Tour (Finchem took over as Commissioner of the PGA Tour in 1994). He has no love lost for the man he feels is responsible for not only coming down on him at every opportunity during his PGA Tour days, but also for making his post-accident life a very tough slog.
"I get there are rules, and I follow the rules and appreciate the rules, but sometimes the rules need to be looked at and adjusted like everything else. The PGA Tour amends rules all the time. Ask Phil Mickelson about PING wedges in 2010. Ask Adam Scott about long putters today. But the rules not changing (the addition of a Major Medical extension in Category Three, ed.) doesn't take into consideration the cold shoulder I've received from the tournament organizers and sponsors whom I would bet anything have been told by the Tour that I'm persona-non-grata," says Green.
Coming from anyone else, those words would have the distinct and unpleasant odor of paranoia and self-pity. From Ken Green, they carry considerable weight. They carry that weight because those who don't go by the name Ken Green echo them. People like Peter Kostis, who has nothing to gain, in fact much to lose, by speaking out about his disbelief that Green can't get into more than a single tournament through a sponsor's exemption in three years despite having more wins and US Ryder Cup inclusions than the majority of the field on any given weekend. Read that again: Ken Green has more wins and has been on the United States Ryder Cup team more times than at least half of all Champions Tour players on any given weekend. And he can't get into a tournament.
And there's Maury Povich, who doesn't say that the Tour seems to have become a closed ecosystem because Ken tells him that, it's because Maury is a famous, successful, jet-setting, golf-loving celebrity who rubs elbows with others in the same boat who have the inside scoop.
And finally, go to the source. Just look at the Tour players, who voted not to change the career wins category to include a Major Medical extension because they believed beyond a doubt that Ken Green would get sponsor's exemptions at every turn. And he's received one in three years.
Ken Green has an incredible, heart-wrenching and yet inspirational story, one that no other player on any Tour can lay claim to. And yet when he asks tournament organizers to be allowed to play in even the lowliest tournaments…crickets.
Green has never had a problem pointing out that the Emperor, no matter where he is found, has no clothes. He lent his name to a lawsuit that claimed that much about the PGA Tour in the early 90s when he was at the top of his game and when others feared repercussions from on high. Today that honesty, candor and selflessness is keeping him from what would be an attempt at one of the greatest comebacks in American sports history. And those who know him know this isn't some ill-conceived pipedream or publicity stunt. Those in the know know he can still play with the best of them.
"We've talked about this (his comeback) a lot," says Kostis. "I think this new prosthetic is huge, he's made a lot of progress and I think with a few more tweaks I think he'll be able to compete. Will he be able to win? Probably not, but I don't think that's his goal."
Kostis says that Green's short game and his putting is still at the top of the pro game. He compared his short game second only to that of Spanish short-game impresario Seve Ballesteros, who died of cancer in 2009. "In terms of quality, his short-game is almost equal to Seve's," says Kostis. Green is still as dangerous as they come on the golf course, but he can't compete if he can't tee it up.
Says Green, "I want to be out there as an inspiration to people and to kids to never give up, to never stop trying and to never get too down on yourself. If anyone on this planet had reason to give up, it was me. My life, my livelihood, my wife, my son, my future—all gone in the blink of an eye. My self-esteem, everything that told me I was Ken Green, was blown apart all at once. If I can get back up and hobble around and compete on the Champions Tour like I know I can, can you imagine what that will do for people, for kids, for adults?"
Green is not looking for a free pass into 20 tournaments a year. He thinks he can play seven or eight and that will allow him to keep his game sharp and show people what he can do, which will in turn show them what they can do. Everyone close to him and in the know believes he can do it. He believes he can do it.
And maybe that's the problem. Maybe Ken Green scares people. He beat 20-plus players with two legs at a Champions Tour event in 2013 on a single peg. Perhaps they're worried that if they let him into tournaments he'll not only charm the crowd (he's undoubtedly one of the most fan-endearing players on any Tour, making self-denigrating wisecracks about his prosthetic and his game as he flails off-balance walking courses like the treacherous Pete Dye course this year, as well as an unrivaled pro-am partner) but challenge, or obliterate, the status quo. Speaking of French Lick, site of the Senior PGA Championship this year, despite cliff-like conditions [remember his fixed ankle], Green finished tied with another 5-time PGA Tour winner, and USA Network golf analyst, Jim Gallagher, Jr., who is two years Green's junior and has two healthy legs supporting his torso, and ahead of 10 other players as well. He is just the person to put a scare into the staid and established senior golf world consisting of players like Colin Montgomery and Bernhard Langer. And to them that's scarier than an 8 on the scorecard. After all, if you've ever been on a driving range at a Champions Tour event, the word 'reverence' doesn't begin to describe the attitude expected from onlookers, the media and even organizers. Ken Green doesn't do reverence.
"Nobody knows that my prosthetic was developed in coordination with the United States Department of Defense. I'm the only one using it right now, sort of putting it through its paces for the military. I bet that would be a great story, and I bet that would be something that everyone at every tournament would like to know and learn more about. But I can't tell them because I won't be there this weekend, or next weekend, or the weekends after that," says Green, his voice trailing off and his eyes welling up. You don't have to scratch very deep to generate tears from Ken Green, they're always right there, just below the surface.
Says Peter Kostis, "I hate clichés, but I'm going to use one now: Kenny wears his emotions on his sleeve. You always know what you're getting with him. I think he's gotten a bad rap over the years. There are times when he acted poorly, no question about it, and he regrets having done that, but he was honest. He never did the right things for the wrong reasons, he always tried to do the right things for the right reasons, and sometimes he did the wrong things, but he did them for the right reasons. If he had taken a deep breath once in a while and thought about what was about to come out of his mouth, it probably wouldn't have come out of his mouth. But Kenny's a good guy, and that's my final answer."
It's never been more clear that the sporting world is populated with some bad people who do bad things and most of the time get away with it until the straw breaks the camel's back (or it's caught on video). From Lance Armstrong to the armada of NFL players being perp-walked what seems like daily, the celebrification and subsequent fall from grace of our athletes has reached pandemic proportions. What we need more than anything right now is the story of a flawed person who says it like it is, stands up for what he believes, and refuses to give up when everything in his life says he should. What does it say about us that we would leave that man to rot on the trash-heap where we have discarded the others who are not worthy of shining his single shoe? What does it say about us when there's still time to do something about it and we choose to remain silent?
To read more from HW Monthly visit www.HWMonthly.com